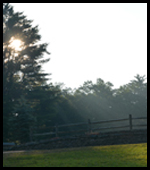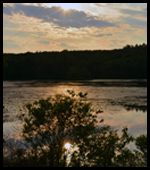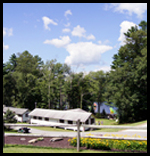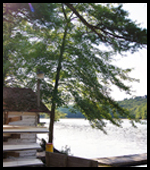 Are you the coach of a school athletic team, band leader looking to develop your squad's skills or perfect your routine before the start of the school year? Or are you looking for a place to plan your retreat for your group?

Look no further as Lake Greeley Camp has lodgings and facilities available to groups before and after our summer operation dates. Secluded in the hills of the Pocono Mountains, Lake Greeley Camp's location allows your group to focus on its objectives without distractions.
Here are some highlights of Lake Greeley Camp's facilities that are available to groups:
Cabins
The cabins that your group would be staying in can fit 10 to 14 people in each cabin. Each cabin is of a modern design with a restroom area with two or three toilets, shower stalls and sinks. There is hot water available in the cabins as well. Electricity is available in all the cabins with several outlets spaced apart in the cabin space. Every bed is twin size and group members are invited to bring their own sheets, comforters, and pillows.
Frolic Inn
A smaller building on the campgrounds that groups can use for small functions and group meetings. There is an open floor space with gymnastics mats available for any practice involving dance or practice routines. A small stage is also present for performances your group may put on.
Gymnasium
The gymnasium is the largest building on the campgrounds that groups can use. As such, it can be used for a variety of purposes such as group practices or activities during your stay. There is a stage for performances, group talks, movie showings, etc. The gym is also a great resource in case of inclement weather.
Goody Hall
4,000 square foot building. Another building on the campgrounds with open space available to set up equipment and practice with a comfortable amount of space. Space can be used to watch movies with projector, do talks and have group meetings.
Fields
We have several fields that groups can use. We have our baseball field with the outfield, Goody Field, and our Upper Field. The baseball field measures 85 yards. Goody Field, located right behind Goody Hall, is a shorter field but has outdoor lighting to be used at night. The Upper Field is the furthest field from the cabins in camp, but measures 100 yards and will be used by marching bands to simulate a football field at school.
Ampitheater
The ampitheater is an outdoor theater area with a hill leading away from it. This could be a great venue for group activities as well as performances in the evening for the group. In addition, it is another area that your group could split to, if you have need of another space.
Other Amenities
In addition to the facilities on camp, we have our Dining Hall with a varied meal menu that can suit the needs of any picky eater. A menu can be provided to you upon request so you can see what a standard week would look like. We also have an Olympic-sized swimming pool with an L shape that can be used for pool parties or just taking a break during the day. Keep in mind that in order to use the pool, your group must have a lifeguard present. And finally we have our basketball courts, beach volleyball court, and tennis courts available, too. If any group member wants to make use of these items, make sure to bring the appropriate equipment during your stay.
It is important to note that our time for rentals is NOT meant to be a "Camp Experience" for groups. Unfortunately, we are unable to cater to these types of groups as our staff work up to our last operating date and then leave camp on that day. We do not have staff available to operate specialized activities such as Rock Climbing or Trapeze. There are activities that we are able to operate such as field activities (football, frisbee, lacrosse), or swimming in the pool. For these kinds of activities, please speak to us so that we can plan your stay with us.

*Please note that if you wish to use the swimming pool, you NEED to have a certified lifeguard with your group.
If you are interested in using Lake Greeley Camp as your group site, please be aware that we are unable to accept groups between June 24 and August 18, our operating season, since we have campers on our grounds. If you have any questions or would like to schedule a tour of our camp grounds to see how Lake Greeley Camp fits your group, please call our winter office at
(570) 842-3739
, and speak with
Matt Buynak Jr.,
who coordinates the groups in the off-season. We want to work with you! Call us today for a price quote on your group.